THE BEST-IN-CLASS WINDOW FOR THE HOME OF YOUR DREAMS
NEW HIGH-TECH MATERIAL
From Rehau's experience with aircraft fiber composites and their expertise in high-performance window design came innovative fiber-reinforced RAU-FIRPO window profile material that makes steel reinforcement virtually obsolete.
UNBEATABLE THERMAL INSULATION
4700 GENEO system easily surpasses the requirements of the U.S. Department of Energy Star Window program. The most energy efficient window profile from Passivhaus Standard can be achieved economically and with generous glass surfaces.
BRILLIANTLY ECONOMICAL
The fully reinforced 4700 GENEO profiles are up to 40 percent lighter than conventional, steel-reinforced window profiles, reducing transportation and installation costs.

Three continuous seals enhance thermal performance

Slim lines assure architectural appeal

Rugged RAU-FIPRO material and profile geometry provide maximum stability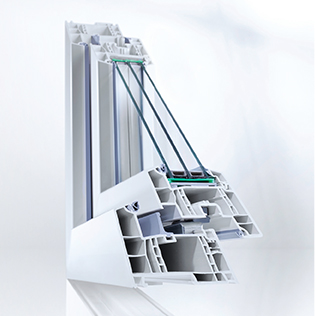 UNIQUELY STRONG AND UNIQUELY ECONOMICAL