NEAT GLASS - THANK YOU FOR MAKING OUR WINDOWS AND DOOR EASY TO KEEP CLEAN!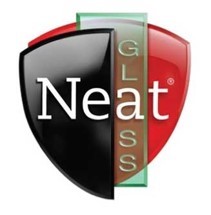 Pretty darn neat. That's what homeowners and builders see. A little of sun, a little of rain, and voila. It's not magic but close to it. All what it is a thin, permanent layer of titanium dioxide and silicone dioxide on the external surface of glass pane.
The gaps within the insulated glass units are created with the most energy efficient spacer systems available: stainless steel INTERCEPT UltraSpacer®, Endur, and organic SuperSpacer®. Space(s) between the glass can befilled with dry air; be filled with argon or a mix of argon/krypton gases improving thermal and acoustical parameters.
In favor of enhancing window/door appearance or functionality, our customers may add decorative grids or blinds: both options are sealed inside glass units and never require cleaning.
The cleaning
The silicone dioxide makes Neat® glass exceptionally smooth, much smoother than ordinary glass. In turn rainwater disperses evenly, "sheets off", and evaporates quickly, greatly reducing water spotting.
Titanium dioxide reacts chemically with sun's UV rays, causing organic materials that are getting on the glass to decompose. When it rains, the decomposed dirt is rinsed away, leaving the glass almost spotless.
In the end? Homeowners can spend much less time washing windows and more time enjoying the unobscured view.
No reduction in visible light transmittance NEAT® coating is invisible, doesn't reduce transition of visible light, is less reflective than all other similar glass available. These makes NEAT® as perfect solution to be used together with other coated glass not negatively affecting their advantages.
Possible combination with other LoE coatings and energy savings When NEAT® is applied to LoE glass, it combines the ultimate in low maintenance with the best energy conserving LoE on the planet. So, homes stay warmer in winter, cooler in summer. NEAT® with LoE conserves energy year-round, too, saving homeowners an average of 25 percent annually.