GLASS OPTIONS
1. ANNEALED
Often called the standard option, annealed glass is a glass that has been thermally treated, then slowly cooled to relieve any internal stresses. It is widely used in areas where safety isn't a concern.
2. SAFETY GLASS
Tempered Glass
Heating glass to around 1250°F, then rapidly cooling it by blowing air on both sides produces tempered glass. This process makes tempered glass up to 4 times stronger than annealed glass. When it breaks, it shutters into small, blunt fragments rather than sharp shards formed by breaking annealed glass.
Heat Treated Glass
With heat-strengthened glass, the cooling process is slower than the process of creating tempered glass, which means the compression strength is lower. In the end, heat-strengthened glass is approximately 2 times stronger than annealed.
Laminated Glass
Laminated glass is created by sealing a thin layer of polyvinyl butyral (PVB) between 2 panes of glass. When laminated glass shatters, it does not fall apart into sharp shards, it is held together by the interlayer. Laminated glass is most known for this safety feature, which helps prevent break-ins.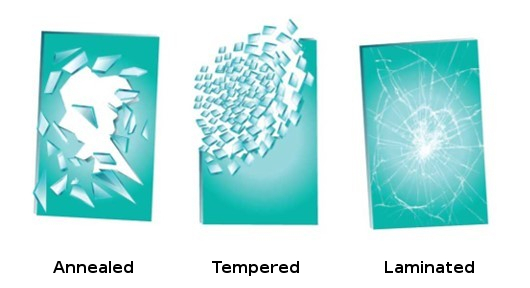 3. TINTED GLASS
There are quite few benefits to having windows with tinted glass. Architects choose this glass in different tints to enhance the appearance of elevations. Tinted glass restricts glare and reduces the fading. Tinted glass selection includes gray or brown colors.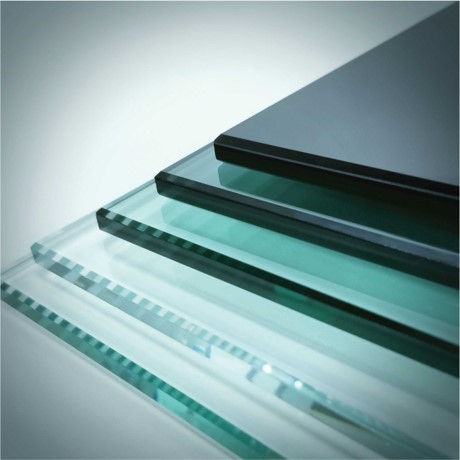 4. COATED GLASS
Coated glass is formed by applying a thin layer of different metals to the surface of a pane of glass, too thin to be visible which allows for permeation of visible light. Depending on the number of layers and materials used, the glass surface can become easy to maintain (NEAT®) or reflect the part of the light spectrum that radiates heat (LoE 270, LoE-366, LoE-i89).
5. PATTERNED GLASS
Patterned glass, also called obscured or decorative, is typically a type of rolled glass that has a pattern embedded into the surface by the roller. The wide range of types offered includes Pattern #62 (known as obscured or frosted, used for privacy). Decorative glass like Glue Chip, Rain, Matte Frost, Flutex and Aquatex are also available.