SPACER SYSTEMS
All our products include the best available insulated glass units. The IGUs made with "warm edge" spacer systems include stainless "Intercept Ultra Spacer®", "Endur Spacer®" or silicone based "Super Spacer®". All spacers used exert maximum thermal performances due to reactive hot melt sealant or silicone: creating a worry-free tightness.
All our insulated glass units come with one of the best warranties available. The seal failures are covered for a period of 20 years.
Intercept Ultra Spacer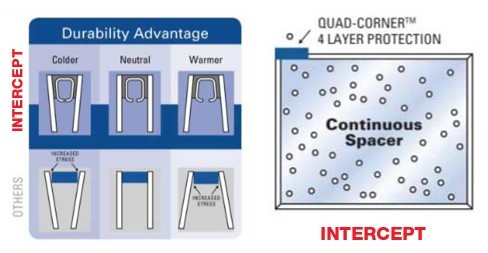 Intercept Ultra spacers feature a unique, one-piece stainless-steel U-channel design that creates an effective thermal barrier to help reduce conducted heat loss through the window. Being sealed in a one-piece design makes the IGU stronger and better at retaining insulating gas than many other conventional designs on the market.
Most durable spacer system: Patented U-shaped design offers superior flexibility with no load on the sealant virtually eliminating seal failures.
Superior warm edge performance: Meets or exceeds all U.S. Energy Star® and European EN-1279 requirements.
Best Argon retention: Ultimate in argon retention with a loss of less than 0.1% per year. ] (Results from prestigious Rosenheim test; The Window Technology Institute (RAL) of Rosenheim, Germany)
Longest MVT: The most durable seal with the longest moisture vapor transmission path of any spacer available
Most favorable aesthetics: Marketing studies prove consumers prefer the look of Intercept over other spacer systems at sight line.
Strongest corners available: Intercept patented Corner + 4th corner integrity identical to first 3 corners.
Endur Spacer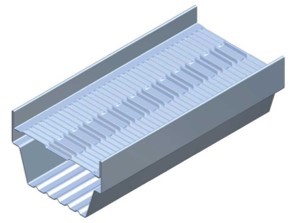 Stainless steel Endur Spacer is built on the proven by Cardinal IG technologies that helps insulated glass units achieve the industry's lowest failure rate - only 0.20% over twenty years.
It's endurance and durability meet top rating performance. That's where insulated glass units with Endur spacer excel.
Super Spacer Premium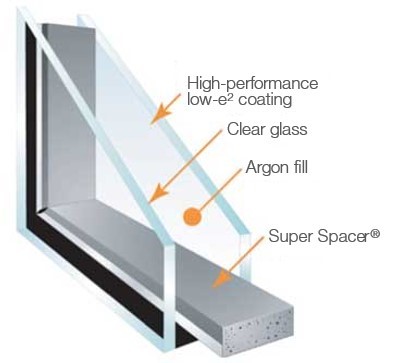 Super Spacer Premium delivers outstanding performance with high-quality silicone material and desiccant, all while featuring a narrow sightline, a preferred choice among designers and architects for beautiful aesthetics.
Super Spacer Premium features:
Low conductivity
Edge-seal durability
Highly breathable flexible foam matrix
High desiccant content for moisture absorption
Flexibility
Argon gas retention